LOCOMOTRIX Concept Free Party - Drum'n Bass V.S. Goa - 26.07.03
Locomotrix Team a crée une party le samedi 26.07.03 pour offrir un mélange de Drum'n Bass et de Goa, pour les mélomanes de ces 2 styles.
Le team voudrait remercier toutes les personnes qui sont venues et tous les bénévoles qui ont travaillé pour vous offrir cette soirée.
Merci à tous pour avoir eu tant de motivation durant la soirée. Et merci pour tous ces sourires et cette bonne ambiance que vous avez crée.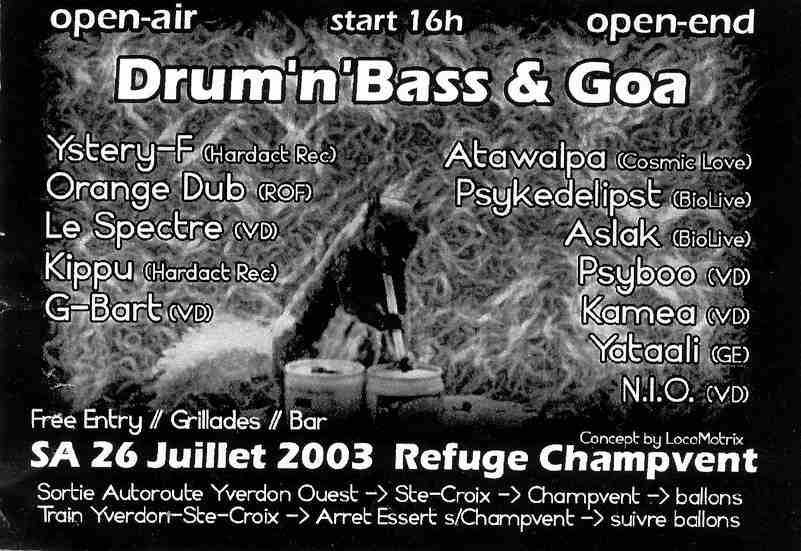 Drum'n Bass : 16h-0h

Ystery-F (Hardact Rec)
Le Spectre (VD)
Kippu (Hardact Rec)
Orange Dub (ROF)
G-Bart (VD)


Goa : 1h-13h
N.I.O (VD)
Atawalpa (Cosmic Love Company)
Aslak (Biolive)
Kamea (VD)
Yataali (GE)
Psykedelipst (Biolive)
Psyboo (VD)


Location : Refuge de Champvent, VD. Highway exit Yverdon-Ouest,
direction Ste-Croix, then direction Champvent,
follow the balloons. By train: Yverdon-Ste-Croix,
stop at Essert s'Champvent, follow the balloons.


Voici quelques photos de la soirée


- Thanks to the Locomotrix Team -
©2002 (-BioLive-Sensation-). All rights reserved. Provide by Net-Oriented