LOCOMOTRIX Reload 20 Sept 03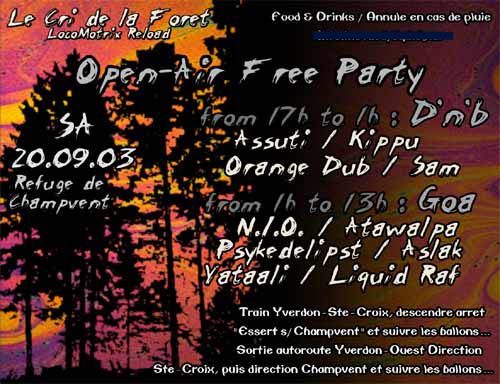 LOCOMOTRIX Reload : Le cri de la forêt - Sam 20 Sept 03
La nouvelle Locomotrix est en route !!!!
Suite à l'excellente première expérience de ce concept Drum'n Bass vs Goa la Locomotrix Team va vous offrir une nouvelle soirée.
Drum'n Bass : 17h-1h
Assuti
Kippu
Orange Dub
Sam
Goa : 1h-13h
N.I.O
Atawalpa
Psykedelipst
Aslak
Yataali
Liquid Raf
Infos : Food and Drinks :) - !!!Annulé en cas de pluie !!! - Infoline : 076/348'65'27 (Attention une erreur s'est glissée sur le flyer)
ou info@biolive.ch
Location : Refuge de Champvent, VD. Highway exit Yverdon-Ouest,
direction Ste-Croix, then direction Champvent,
follow the balloons. By train: Yverdon-Ste-Croix,
stop at Essert s'Champvent, follow the balloons.


- Thanks to the Locomotrix Team -
©2002 (-BioLive-Sensation-). All rights reserved. Provide by Net-Oriented